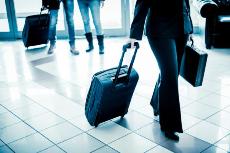 Business travel can be extremely exhausting, with little of the glamour that people associate it with. For many business people, the trip can be as short as an overnight sojourn, meaning your energy will be spent on transit and meetings, with no relaxation and sightseeing on the cards. As a result, finding accommodation that doubles as a retreat and provides you with everything you need to have a smooth business trip, becomes very important. Below you'll discover seven of the features you should be keeping an eye out for when researching your next business trip accommodation.

Wi-Fi
More often than not, business people will appreciate any inclusions that allow them to work efficiently and effectively. That's right, even when you're not in a conference or meeting, you'll be checking your emails and wanting to stay on top of things. It's little wonder, therefore, that complimentary, high-speed Wi-Fi is on the list! Some providers, such as Kings Park Accommodation, go the extra mile by offering a generous data allowance, so this is also worth checking out.
Iron
It doesn't matter whether you're wooing clients or attending a seminar, when you're representing your company, you need to look professional. This means your dress attire should be neat, clean and unwrinkled. Remember: first impressions count! An iron in your hotel room will therefore go a long way.
Laundry Facilities
Just like an iron, laundry facilities become essential when you're trying to look the part of an organised business traveller. Even if you're only staying in hotel accommodation for a few nights, if you receive a nasty surprise when you discover you didn't pack enough clothes, a washing machine and dryer will become your new best friends.
Breakfast Included
Everyone knows that skipping breakfast can be disastrous. By mid-morning, your stomach will likely be growling loudly enough for your colleague or client to hear, and your irritability levels will be skyrocketing. If your accommodation includes a tasty breakfast, getting your morning fill will be so much easier, meaning you're less likely to miss out.
Plenty of Power points
There's nothing more annoying than having access to only one power point and wanting to plug in several devices. Your laptop and phone chargers will require two from the get-go! Of course, you could pack a multi socket extension board, but really, it would be nice if you could save on space!
Proximity
If you're in and out for a location, then you need to get where you need to be as quickly as possible. Your temporary accommodation should be situated near your office, the conference centre, or your client's workplace. It doesn't hurt to also be close to restaurants, cafés and shops, so you can make the most of your down time (when you're done checking your email).
Minibar
Alas, sometimes you will be so busy that you are confined to your hotel room, surrounded by paperwork or tapping away furiously on your laptop's keys. A minibar filled with drinks and snacks can provide you a well-deserved treat and are the ultimate in convenience – you don't even need to find a vending machine!